Ministries
We invite you to explore our ministries, get connected and stay involved with our community. Check the announcements and events frequently for ministry updates. Contact individuals identified below or Email:  [email protected]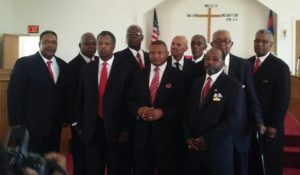 Deacon Ministry
Our Deacon ministry "serve the church" in the spiritual matters including visiting and ministering to the sick, needy and aged. Pray with the distressed, seek to make themselves aware of needs within the congregation. Deacon fills an important role in the ministry by assisting in the distribution of the Lord's Supper. The Deacons and Pastor shall consider formulate plans for the constant and progress of the church in all things pertaining to the saving of souls, the development of Christians, and the extension of growth of the kingdom of God.
The Apostles, in dealing with the benevolence ministry problem at the Jerusalem church, told the congregation that, "It is not desirable that we should leave the word of God and serve tables. Therefore, brethren, seek out from among you seven men of good reputation, full of the Holy Spirit and wisdom, whom we may appoint over this business; but we will give ourselves continually to prayer and to the ministry of the word." Acts 6:2-4 (NKJV)
Point of Contact:  Deacon James Sanders, Sr., Chairperson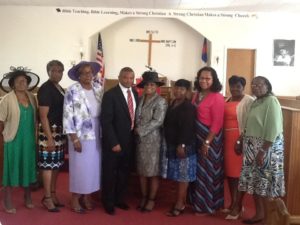 Deaconess Ministry
The mission of the Deaconess Ministry is to assist the Pastor and Deacons in meeting the needs of the congregation. The purpose of the Deaconess Ministry is assist with the Lord's Supper, overseer the dressing of the Baptismal Candidates for baptism, take care of the communion cloths, clean, prepare, and restore the utensils used after each Communion Service.  As Deaconess we take care of the spiritual responsibilities of the church to glorify God through our service to others, to be a Christian influence in the church and community. We provide service whenever needed to continue the building of Gods kingdom.
"Most assuredly, I say to you, he who believe in me, the works that I do, he will do also; and greater works than these he will do, because I go to my Father." John 14:12 NKJV
Point of Contact:  Sis. Linda Clark, Chairperson and Sis. Virginia Rice, Advisor
Trustee Ministry
The Trustee Ministry is appointed to assist the Pastor with the oversight of church business affairs.  Oversees and manages the material possessions and financial matters of the church with spiritual sensitivity. The church's physical property, financial obligations and all other assets are the responsibility of the Trustee Ministry. This ministry is the official representative of the church in all legal, business, and financial proceeding regarding the church interests.  Trustees enable the execution of God's mission through stewardship and individual spiritual gifts. Acting as one body, the Trustees provide direction, leadership, facilities, processes, capability and capacity to help further God's word.
Proverbs 16:3 :  "Commit thy works unto the LORD, and thy thoughts shall be established."
Point of Contacts: Trustee Joe Hunter, Chairman and Trustee Joan Boyd, Co-Chairman
Missionary Ministry
Seekwell Baptist Church Missionary Ministry seeks to provide outreach to persons in need of assistance.  Our missionaries dedicate themselves in doing God's work through service to our surrounding communities.  Through the use of our many talents and resources, our mission participate in, nursing home visitations, clothing drives, assembling and distributing Thanksgiving baskets, making Christmas merry for families through our Angel Tree, and much more.  As our missionaries minister the physical needs, they have an opportunity to demonstrate God's love, touch hearts and spirits and bring others to Christ.
Point of Contact:  Sis. Joan Boyd,  Chairperson
Usher Board Ministry
Our Usher Board Ministry was formed to provide our members and visitors with a warm welcome and lasting friendly impression of the church. Their duties include greeting people as they arrive for the service, assisting people with special needs, assist in collecting offering when needed. Act as doorkeepers, greeting each person with a smile, and handing out bulletins.
Extend help in seating those who need the assistance. Stand ready to assist anyone in the congregation, to aid latecomers in finding a seat.  Be available directing visitors in the direction needed within the facility. Usher has a true love for the people of the church and is really to assist in any area need.
"The heart of an usher is the heart of a servant, and he does his work for his Lord Jesus." Colossians 3:24
Point of Contact: Sis Lillie Clark Chairperson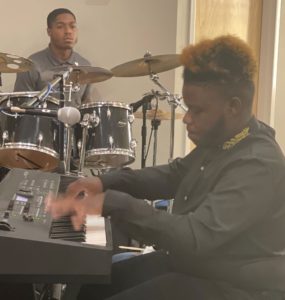 Music Ministry
Seekwell Baptist Church Music Ministry desires to glorify and uplift God through music, song and praise.  Through traditional hymns and contemporary music, share the gospel of Jesus Christ, lead the congregation in worship and praise, provide an avenue through which individuals may share their gift and be an integral part of the worship. The Music Ministry spreads the Word of God through music experiences.
Choir Ministries
Our choirs use music and songs to glorify God and encourage the congregation to become engaged in praise and worship.
 "Make a joyful noise unto the Lord, all ye lands. Serve the Lord with gladness: come before his presence with singing." (Psalm 100: 1-2)
Point of Contacts:
Gospel Choir, Sis. Angela Clark; Chairperson
Senior Choir, Sis Fannie Shelton; Chairperson
All Male Choir, Dea. Alexander Sims; Chairperson
Youth Choir, Sis. Tonia Clark; Chairperson
Brotherhood Ministry
The purpose of our Brotherhood Ministry is to teach men of all ages to accept responsibility, lead, establish and maintain a Christian Fellowship with each other.  Our goal is to help each other and help others to grow spiritually, emotionally and strengthen family relationships.
Point of Contact, Dea. James Sanders, Jr. Chairperson
Media Ministry
The mission for the Media Ministry is to provide support during worship service and Church programs through video, audio and publications.  This ministry publicizes the good works and events of Seekwell within the community. The ministry communicates the Good News by Facebook, Web, emails and internet.
Point of Contact:  Bro. Benjamin Basnight, Bro. Ronald Clark, Jr., Bro Brian Brooks, Sis. Virginia Rice and Sis. Rose Mickens
Our mission for Seekwell Youth Choir Ministry and Praise Dance Ministries is to be a positive example to children, teens, and adults in the church and community by glorifying God.  Our boys dance ministries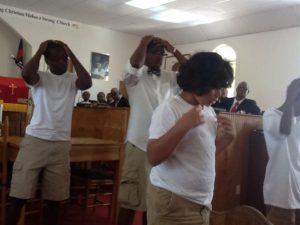 "Believers of Your Savior" range from ages 11-19. Our girls dance ministries "Chosen Gospel Girls" ranging from ages 5-13.
Point of Contact:  Sis. Tonia Clark, Dance Leader
 The mission is to provide guidance to the young men within the Church and surrounding community. This ministry makes available to our young men outings and Life coping skills. The ministry works to more effectively involve the young men in the activities and work of the church.
Point of Contacts:   Trustees Ron Clark, Sr., Joe Hunter and Terry Sanders
Our Couples Ministry is designed to strengthen each couple and offer guidance to engaged couples, Newlyweds, and married couples.  The Couples Ministry provides opportunity for couples in the church to fellowship during outings.  Both husband and wife don't have to be members of the church.  Newlyweds and engaged couples are encouraged to participate. We are striving to please God by following His word.  Selected scriptures are:
Peter 4:8; Ecclesiastes 4:12; Ephesians 4:2-3; Mark 10:9; Genesis 2:22
Point of Contacts:  Dea. Boisy Shelton and Sis. Fannie Shelton
Women Ministry
The mission of our Women Ministry is sharing the Good News of Jesus Christ as we exemplify His goodness.  Our vision as "Women on the Move for Jesus" is to see the Holy Spirit empowering our lives through "P'RAYER" and "LOVE" while transforming "HEARTS".
Point of Contact:  Minister Sandra Worthy, Sis. Annie W. Epps and Sis. Angela Clark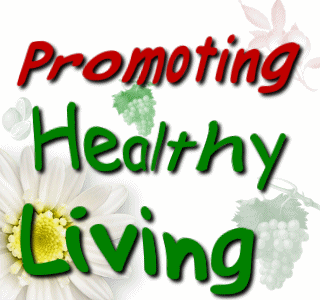 Health and Wellness Ministry
Integrating faith to promote whole-person health in the communities they serve, our Health Ministry leaders seek to encourage the congregation to make lifestyle changes that can improve quality of life. They are incorporating the values, beliefs, and practices of a faith community as components in motivating persons toward health and wholeness consisting of five dimensions —physical, social, emotional, mental, and spiritual.
1 Corinthians 6:19-20 – 19 Do you not know that your bodies are temples of the Holy Spirit, who is in you, whom you have received from God? You are not your own; 20 you were bought at a price. Therefore honor God with your bodies.
Coordinators:  Sis. Doretha Simpson and Sis. Joan Boyd