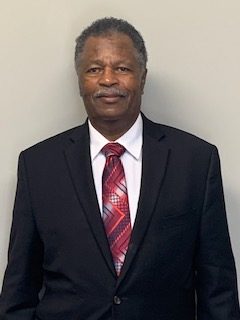 George R. Clark was ordained as a deacon on February 23rd, 2011 at Seekwell Baptist Church. He married Lelia Tobe Clark in 1976 and they have three children, George Dwayne Clark, Allyson Clark White and Clifton White and one grandchild, Peyton Savannah White. They currently reside in the Goshen Hills Community of Whitmire, S.C.
Deacon George R. Clark attended Columbia Junior College and graduated from Midland Technical College. He also served in the United States Navy four years with honorable discharge, and retired from the Navy Reserved in 2003, servicing the United States Armed Forces a total of 27 years.
Deacon George R. Clark worked for the Clark Brothers' Logging for many years, and for the United States Postal Service. In 1989, he started his own business, Ron and Raw Stump Service. Deacon George R. Clark retired from the United States Postal Service in 2009. Through a joint visionary venture, in 2004, became a working partner and owner of Clark Enoree Sand Plant.